Manganese X (MN.V) does a happy dance
Ask a Canadian investor about Potash – and they'll start nattering about decreasing arable land and a new generation of carnivores in India.
Same thing with gold, oil, copper, lithium, graphite; rudimentary knowledge is commonplace.
Ask most people about Manganese, they're not sure if it's a baking ingredient or the family name of a French footballer.
Manganese is important.
Here's why: Lithium-ion batteries are expensive to manufacture and prone to over-heating. A recent innovation that makes batteries cheaper and safer – and requires manganese.
There's a production shortage, which why the spot price keeps marching higher.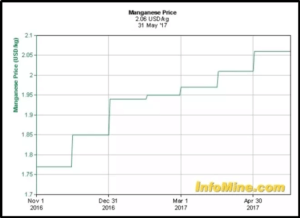 Manganese is increasingly being used in cathode materials.
The cathode is a battery's negatively charged electrode. Lithium Nickel Manganese Cobalt Oxide (NMC) cathodes are made of nickel, manganese and cobalt.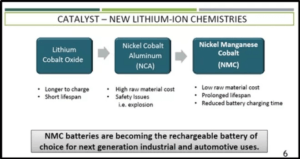 The Green Car Congress has confirmed that NMC cathodes have improved power balance and thermal stability at a lower cost to conventional cathodes.
Manganese X (MN.V) is developing a low-cost open-pit manganese project in Canada. There are currently no operating manganese mines in North America. Most of the supply comes from China and Africa – which brings political risks, tariffs, and transportation costs.
MN recently completed a diamond drill program designed to evaluate three historic manganese occurrences on its Woodstock New Brunswick property.
Drilling was completed over a 1.8 km strike length of the prospective manganese occurrence trend.
Conclusions from the Drill Program
The initial drill program, consisting of wide spaced drill holes, has confirmed significant widths of near surface manganese mineralization over a strike length of approximately 1.5 km.
Intersection widths of up to 87.7 m (287.7 ft) and MnO grades of up to 21.5%.
Mineralization remains open to depth and along strike.
The mineralization shows good continuity and has been intersected from surface to vertical depths of 115 meters.
But MN is not your typical exploration company.
On September 14, 2017 – Manganese X announced, that is, had signed a confidentiality agreement with the University of Minnesota to develop value added manganese products.
According to the press release, the company "will also continue to work with the additional prominent manganese engineering companies already engaged in our various metallurgical projects."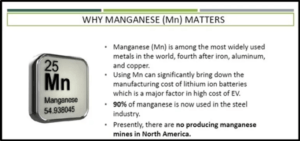 "Having the University of Minnesota on board along with our team of experts will enhance tremendously and expedite our development of our Battery Hill Woodstock New Brunswick manganese property," stated MN CEO Marin Kepman, "with the intent of being the first North American supplier of value-added materials to the lithium-ion battery and other alternative energy industries, as well as the steel industry".
On August 24, 2017, MN announced the commissioning of a 43-101 mineral resource estimate and technical report on its Battery Hill manganese property located in Carleton County, about 5 kilometers outside of Woodstock, New Brunswick.
The technical work will include an independent study of MN's confirmation drilling programs.
The market is reacting positively to the company's dual focus of metallurgical innovation and resource development. The 60-day chart below shows a share price increase of 90%.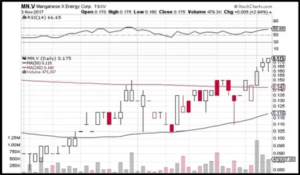 The Battery Hill manganese technical project will have two phases:
Phase 1: Preliminary deposit modelling including grade/tonnage block model estimates, with the primary objective to establish the magnitude of potential resources,
Phase II: Completion of a NI 43-101 mineral resource estimate based on the results of Phase 1 and the completion of data validation and verification,
"We now have a detailed roadmap to create Canada's first high-grade manganese product," stated Kepman, "Our strategic location is only 10 km from the US border. We also have access to major rail lines, making us an obvious potential supplier to the lithium-ion battery market."
Manganese has the following demand drivers.
A critical component of the cathode material in modern alkaline, lithium, and sodium batteries
Green/clean energy credentials – weening off fossil fuels.
Manganese is likely to remain the preferred energy material for the future.
Manganese is also well suited for cathode mix in bulk energy storage & energy management for portable power and integrating solar and wind renewable energy.
The chemical subsidiary of LG Electronics, LG Chem and 3M, have already started using NMC cathode materials in lithium-ion batteries. LG Chem supplies NMC-based Li-ion batteries to plug-in vehicles, including the Chevy Volt.
Despite the recent share-price run, Manganese X is flying low under the radar, with a market cap of only $8.1 million.
When the 43-101 resource estimate is completed, the valuation is likely to be higher.
Full Disclosure: Manganese X used to be an Equity Guru client. Ever had an old boyfriend or girlfriend you're still fond of? It's like that.
About Manganese X Energy
Manganese's X mission is to acquire and advance high potential manganese mining prospects located in North America with the intent of supplying value added materials to the lithium ion battery and other alternative energy industries. In addition our company is striving to achieve new methodologies emanating from environmentally and geographically ethical and friendly green/zero emissions technologies, while processing manganese at a lower competitive cost.
For more information, visit the website at www.manganesexenergycorp.com.
ON BEHALF OF THE BOARD OF DIRECTORS
Martin Kepman
CEO and Director
martin@kepman.com
1-514-802-1814
Cautionary Note Regarding Forward-Looking Statements:
Neither TSX Venture Exchange nor its Regulation Services Provider (as that term is defined in the policies of the TSX Venture Exchange) accepts responsibility for the adequacy or accuracy of this release.
This news release contains "forward-looking information" including statements with respect to the future exploration performance of the Company. This forward-looking information involves known and unknown risks, uncertainties and other factors which may cause the actual results, performance or achievements of the Company to be materially different from any future results, performance or achievements of the Company, expressed or implied by such forward-looking statements. These risks, as well as others, are disclosed within the Company's filing on SEDAR, which investors are encouraged to review prior to any transaction involving the securities of the Company. Forward-looking information contained herein is provided as of the date of this news release and the Company disclaims any obligation, other than as required by law, to update any forward-looking information for any reason. There can be no assurance that forward-looking information will prove to be accurate and the reader is cautioned not to place undue reliance on such forward-looking information. We seek safe harbor.