After lithium and cobalt: what comes next?
With lithium and cobalt stocks grabbing the limelight over the past few years, investors are searching for the next commodity to deliver serious yields in 2017.
Could it be manganese that is set to go on a bullish price run next?
You may not have heard much about manganese, but it's a metal you may be about to hear a whole lot more about in 2017.
Often overlooked by investors, it could be the next metal to embark on a long rally in the same vein as lithium and cobalt over the past few years.
Of course commodity prices do fluctuate and investors shouldn't base their investment decisions on commodity prices alone.
The ascent of this unassuming metal could be due to its (virtually unknown) relevance to the lithium ion batteries that power electric vehicles. If you are familiar with the battery revolution, you'll also be aware of the role of lithium-ion batteries in off-the-grid power systems and other energy storage applications.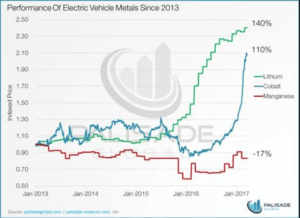 In a volatile year for commodities, manganese has been a surprise packet in 2017.
The metal has traditionally tracked iron ore prices, but a disconnect appears to have occurred with manganese performing strongly in the first quarter and remaining relatively resilient despite the iron ore price plunge.
As we alluded to earlier, manganese demand is driven by dual forces. It has a well-established role in the traditional steel market, but it also plays a pivotal, if unexpected, part in the more cutting-edge off-the-grid power space – a factor, it seems, investors have largely missed thus far.
With lithium and cobalt situated as the 'poster boys' of the battery metals market – fuelled heavily by Tesla, other EV car manufacturers including Toyota and Mercedes and electronics makers such as Samsung and Panasonic – manganese has been somewhat left behind.
However, this might be set to change as it becomes clear that manganese also has a critical role to play in clean energy applications.
Is manganese poised to become the next lithium?
Manganese is an irreplaceable metal in steel production, serving the essential function of removing oxygen and sulphur when iron ore is converted into iron. Manganese is also used as an alloy that increases both the strength and flexibility of steel.
It is the fourth most commonly used metal by tonnage – after iron, aluminium and copper. During the past ten years, steel production has increased on a global level, with the International Manganese Institute projecting that between now and 2020, the global steel industry will continue growing at a rate of about 2% annually.
The steel industry is poised to continue growing, providing a steady source of demand for manganese. The US alone needs about 500,000 tons of manganese per year, the majority of which is consumed by the steel industry.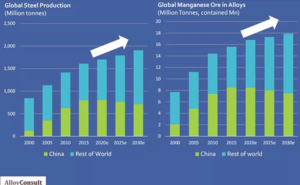 But it is manganese's less commonly realised application in clean energy that takes on fresh interest here, especially in relation to off-the-grid power storage — a market positioned to only increase in future.
NiMH batteries provide the prevailing battery technology for hybrid vehicles, including the Toyota Prius. Li-ion batteries, whose centrality has been highlighted by Tesla, are important because they have a higher energy density — meaning the amount of energy they hold by weight or volume — than any other type.
Interestingly, the lithiated manganese dioxide (LMD) battery is the most emergent technology to make use of manganese. LMDs are used to provide higher power output, thermal stability, and superior safety to regular lithium-ion batteries. Typically, an LMD battery uses 61% of manganese and a mere 4% of lithium.
It's clear manganese has a role to play in the growth of the new energy sector – but could it be more important than first thought?
About Manganese X Energy
Manganese's X mission is to acquire and advance high potential manganese mining prospects located in North America with the intent of supplying value added materials to the lithium ion battery and other alternative energy industries. In addition our company is striving to achieve new methodologies emanating from environmentally and geographically ethical and friendly green/zero emissions technologies, while processing manganese at a lower competitive cost.
For more information, visit the website at www.manganesexenergycorp.com.
ON BEHALF OF THE BOARD OF DIRECTORS
Martin Kepman
CEO and Director
martin@kepman.com
1-514-802-1814
Cautionary Note Regarding Forward-Looking Statements:
Neither TSX Venture Exchange nor its Regulation Services Provider (as that term is defined in the policies of the TSX Venture Exchange) accepts responsibility for the adequacy or accuracy of this release.
This news release contains "forward-looking information" including statements with respect to the future exploration performance of the Company. This forward-looking information involves known and unknown risks, uncertainties and other factors which may cause the actual results, performance or achievements of the Company to be materially different from any future results, performance or achievements of the Company, expressed or implied by such forward-looking statements. These risks, as well as others, are disclosed within the Company's filing on SEDAR, which investors are encouraged to review prior to any transaction involving the securities of the Company. Forward-looking information contained herein is provided as of the date of this news release and the Company disclaims any obligation, other than as required by law, to update any forward-looking information for any reason. There can be no assurance that forward-looking information will prove to be accurate and the reader is cautioned not to place undue reliance on such forward-looking information. We seek safe harbor.