Battery Hill Manganese Deposit Advancing Towards Pre-Feasibility Stage with Completion of Drill Program
Montreal, Quebec, Canada, March 29, 2023 – Manganese X Energy Corp. (TSXV:MN) (FSE: 9SC2) (OTC: MNXXF) ("Manganese X" or the "Company") is pleased to announce initial results from its recently completed pre-feasibility diamond drilling program at the Company's 100% owned Battery Hill project located near Woodstock, New Brunswick, Canada. The program consisted of infill and expansion drilling designed to upgrade existing inferred resources to the measured and indicated categories in support of the project's upcoming Pre-Feasibility Study (PFS).
Assays have been received from 10 holes of the 35 hole program, drilled on the Moody Hill and Sharpe Farm sectors of the Battery Hill deposit. See Figure 1 for a plan map with all drilling on the Moody Hill and Sharpe Farm sectors of the Battery Hill claims. Once all results have been received, an updated National Instrument 43-101 compliant mineral resource estimate will be completed.
Key Highlights (See Full Results in Table 1)
84 m of 12.8% MnO starting at surface, including 78 m of 13% MnO, in SF22-66
4 m of 11.2% MnO starting at 8 m, including 71.4 m of 11.4% MnO, in SF22-65
8 m of 14.6% MnO starting from 4.2 m, including 31.8 m of 19% MnO, in SF22-63
5 m of 12.28% MnO starting at 5.5 m, including 40.8 m of 15.7% MnO, in SF22-64
26 m of 13.3%MnO starting at 69 m in hole SF22-59
20 m of 14.7% MnO starting at 92 m in hole SF22-60
Manganese X CEO Martin Kepman commented, "We are very pleased with the progress made on our Battery Hill prefeasibility drilling program, having just completed 35 infill drill holes measuring 4,690 meters, especially given the harsh winter conditions. Today we are reporting on our first 10 drill holes and are very satisfied with the strong results. The remainder of the infill drill holes are currently at the laboratory for analysis."
He continued, "It's important to note that the PFS is key to the decision making and forward planning of the mine permitting process, as well as the de-risking and advancement of our Battery Hill project. A major part of preparing for the PFS is our current drill program, as well as the environmental, community and geotechnical studies, which will commence in the spring."
Pilot Plant Project Update
Manganese X CEO Martin Kepman also stated, "In addition, our pilot plant project at Kemetco Research Inc. located in Richmond, BC, is proceeding well. We anticipate that we will be able to send out high purity EV compliant manganese sulfate monohydrate products to interested parties from the EV battery sector in the coming weeks to initiate the validation process. More information to follow."
The Company is methodically fulfilling its mission to become the first publicly traded mining company in Canada and the United States to commercialize high-purity electric-vehicle compliant manganese.
Table 1: Full Results
Battery Hill 2022-23 Selected Drill Hole Intercepts
Moody West Zone
SF22-58
29 metres of 8.16% MnO starting at 64 metres
SF22-68
24 metres of 10.9% MnO starting at 71 metres
Moody Central Zone
SF22-59
26 metres of 13.3% MnO starting at 65 metres
SF22-60
20 metres of 14.7% MnO starting at 93 metres
SF22-60
14 metres of 11.9% MnO starting at 127 metres
SF22-61
28 metres of 8.9% MnO starting at 44.5 metres
SF22-63
57.8 metres of 14.6% MnO starting at 4.2 metres
SF22-64
56.5 metres of 12.3% MnO starting at 5.5 metres
SF22-65
75.4 metres of 11.2% MnO, including 45.4 metres of 13.2% MnO, starting at 8 metres
SF22-66
84 metres of 12.8% MnO, including 78 metres of 13% MnO, starting at surface
Moody East Zone
SF22-62
22 metres of 8.8% MnO starting at 6.5 metres
SF22-67
69 metres of 9.3% MnO starting at 29 metres including 18 metres of 10.4% MnO
Holes SF22-63 to 65 were vertical holes, drilled at a low angle to the strata, and provided material for testing in the ongoing Pilot Plant testing at Kemetco Research, in Richmond, BC. Holes SF22-59 to 62, and SF22-67, were drilled at 45 degrees and have an estimated true thickness of 80-85% of reported values.
Standard protocols and industry standard practices were employed in logging and sampling the core. QA/QC practices included insertion of Certified Standards, blanks and duplicates, each consisting of 5% of the total samples. Check assays of 5% of the samples are being sent to a second laboratory. Samples averaged 2 metres in width. All initial half-core samples were taken by Company personnel to the Actlabs prep lab in Fredericton, New Brunswick, where they were prepped and the pulps forwarded to Actlabs in Ancaster, Ontario, where XRF-Fusion Whole Rock Analysis (Code 4C) was performed. Actlabs is an accredited analysis laboratory.
This news release has been reviewed and approved by Perry MacKinnon, P. Geo., Vice President of Exploration of Manganese X and a "Qualified Person" under National Instrument 43-101 guidelines with regard to Standards for Disclosure for Mineral Projects.
Figure 1: Battery Hill Drill Plan Map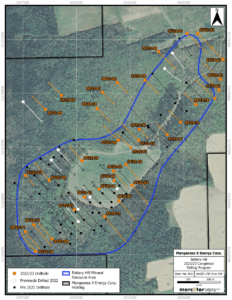 About Manganese X Energy Corp.
Manganese X's mission is to advance its Battery Hill project into production, thereby becoming the first public actively traded manganese mining company in Canada and the US to commercialize EV Compliant High Purity Manganese, potentially supplying the North American supply chain. The Company intends on supplying value-added materials to the lithium-ion battery and other alternative energy industries, as well as striving to achieve new carbon-friendly more efficient methodologies, while processing manganese at a lower competitive cost.
Subsidiary Disruptive Battery Corp.'s mission is to develop an HVAC (heating, ventilation and air conditioning) air purification delivery system for cleaner and healthier air, aiming to mitigate COVID-19 and other contaminants on surfaces and in the air. For more information visit the website at www.manganesexenergycorp.com
ON BEHALF OF THE BOARD OF DIRECTORS

Martin Kepman
CEO and Director
martin@kepman.com
1-514-802-1814
Neither TSX Venture Exchange nor its Regulation Services Provider (as that term is defined in the policies of the TSX Venture Exchange) accepts responsibility for the adequacy or accuracy of this release.
Cautionary Note Regarding Forward-Looking Statements:
This news release contains "forward-looking information" including statements with respect to the future exploration performance of the Company. This forward-looking information involves known and unknown risks, uncertainties and other factors which may cause the actual results, performance or achievements of the Company to be materially different from any future results, performance or achievements of the Company, expressed or implied by such forward-looking statements. These risks, as well as others, are disclosed within the Company's filing on SEDAR, which investors are encouraged to review prior to any transaction involving the securities of the Company. We seek safe harbour.