Manganese X Completes Its Second Phase Drill Program at Battery Hill Intersects Grades over 18 % Manganese Oxide / Proposals for NI 43-101 Compliant Mineral Resource Estimate Tendered
Montreal, Quebec: Manganese X Energy Corp. (TSXV: MN) (FSE: 9SC2) (TRADEGATE:9SC2)(OTC Pink: SNCGF) (the "Company") is pleased to announce new drill results from the spring drill program on the Battery Hill Deposit at its Houlton Woodstock manganese property located in Carleton County, 5 km NW of Woodstock, New Brunswick. The drill program consisted of 9 holes totaling 1599 meters on the Sharpe Farm and Moody Hill areas of the deposit where previous drilling in 2016 intersected MnO grades such as 16.73% over 32.85m (107.8 feet) and 13.87% over 52.6m (172.5 feet) (news release dated Feb 14, 2017). The Sharpe Farm and Moody Hill areas reference historical occurrences with numerous surface workings. Historical, non-NI-43-101 compliant tonnage and grade calculations (from Sidwell, 1957) for the two occurrences are reported as 7,257,000 tons of 9% Mn and 9,071,847 tons at 9.5% Mn (such figures are quoted historical values are not compliant with CIMM or equivalent guidelines and are not to be relied upon see Historical Occurrences section below for details).
All holes of the program, with the exception of SF17-14, encountered significant amounts of manganese mineralization. The mineralization shows good continuity and extends from surface to vertical depths of 170 meters based on drilling.
Roger Dahn, VP Exploration and a director of the Company notes, "We are encouraged by the presence of higher grade mineralization in the Moody Hill area that is above the historical average grade indicated by Sidwell in 1957. For example, hole SF17-16 that contains 17.37% MnO over 23.6 meters (77.4 feet) within a broader zone assaying 13.19% MnO over 44.6 meters (146.3 feet). The Company is exploring the property with the objective of potential future development through low cost open pit mining. Higher grade areas such as these may represent candidate "starter pit" locations.
The Company is also pleased to announce that it has requested proposals for the completion of a preliminary solid model / grade-tonnage estimate and if desired the subsequent completion of a NI 43-101 compliant mineral resource estimate with updated technical report.
Conclusions and Highlights of the Program
Intersection widths of up to 54.1 meters or 177.5 feet (true width) and MnO grades of up to 18.4% were encountered as shown in the Table below.
Zones of higher grade mineralization (14% to 18% MnO) are present such as identified in holes SF16-8, SF17-12 and 15 to 18 from the Moody Hill area.
Mineralization remains open to depth and along trend or strike.
The manganese mineralization is interpreted to be hosted by a folded sedimentary sequence with several horizons of mineralization. Significant mineralized intervals are reported in Table below as core lengths and estimated true thickness (where sufficient drill information permits). A map of the drill hole locations can be viewed on the Company's website.
Manganese X Energy appreciates and would like to acknowledge the financial support provided by the Province of New Brunswick through the New Brunswick Junior Mining Assistance Program (NBJMAP).
Historic Occurrences
The Houlton Woodstock manganese property contains historic workings referred to as (from north to south) the Iron Ore Hill, Sharpe Farm and Moody Hill Mn-Fe occurrences. Historical, non-NI-43-101, tonnage and grade calculations for these occurrences are reported as 22,680,000 tons of 10% Mn, 7,257,000 tons of 9% Mn and 9,071,847 tons at 9.5% Mn respectively. The above estimates are from Sidwell, 1957 using limited drilling and a widely spaced gravity survey. The Company has not done enough work to verify these resources, therefore the above resources are historical in nature and the Company does not treat the historical estimates as current mineral resources / reserves as defined under NI 43-101.Such figures are quoted historical values are not compliant with CIMM or equivalent guidelines and are not to be relied upon. For further information, please refer to our NI 43-101 Technical Report on our website www.manganesexenergycorp.com or refer to our previous press release dated November 30, 2016.
TABLE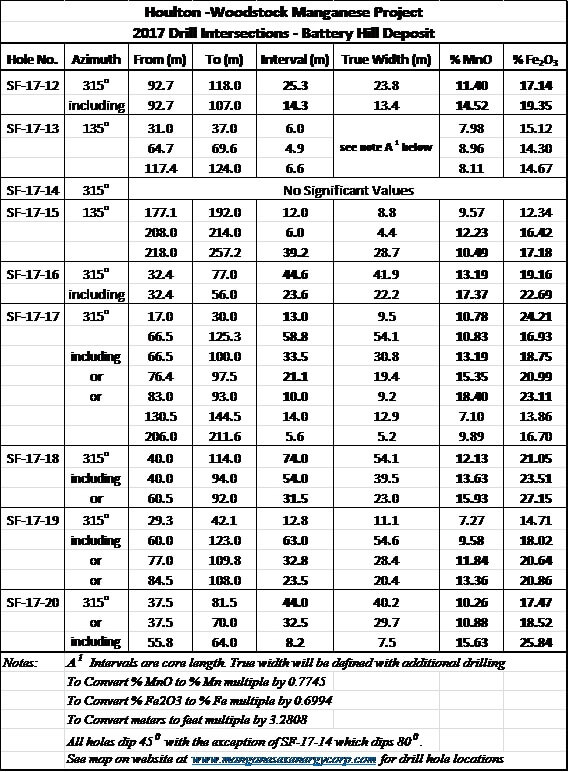 In addition, Manganese X Energy Corp continues to pursue additional manganese and other potential acquisitions.
Qualified Persons and QA/QC
Roger Dahn, B.Sc., P.Geo (New Brunswick), Manganese X Energy's Vice President of Exploration, is designated as the Qualified Person in compliance with National Instrument 43-101 with respect to this release and has reviewed the contents for accuracy.
Thorough QA/QC protocols are followed including the insertion of blanks, standards and duplicates at regular intervals in each sample batch. Drill core is cut in half (longitudinally) with one half retained on site; the other half comprising the samples were bagged, tagged, sealed and delivered to Activation Laboratories Ltd's prep facility located in Fredericton, New Brunswick. Assays were performed by Activation Laboratories Ltd using assay total digestion XRF Fusion assay method (Code 4C) with detection limit for MnO at 0.001%
About Manganese X Energy
Manganese's X mission is to acquire and advance high potential manganese mining prospects located in North America with the intent of supplying value added materials to the lithium ion battery and other alternative energy industries. In addition our company is striving to achieve new methodologies emanating from environmentally and geographically ethical and friendly green/zero emissions technologies, while processing manganese at a lower competitive cost.
For more information, visit the website at www.manganesexenergycorp.com.
ON BEHALF OF THE BOARD OF DIRECTORS
Martin Kepman
CEO and Director
martin@kepman.com
1-514-802-1814
Cautionary Note Regarding Forward-Looking Statements:
Neither TSX Venture Exchange nor its Regulation Services Provider (as that term is defined in the policies of the TSX Venture Exchange) accepts responsibility for the adequacy or accuracy of this release.
This news release contains "forward-looking information" including statements with respect to the future exploration performance of the Company. This forward-looking information involves known and unknown risks, uncertainties and other factors which may cause the actual results, performance or achievements of the Company to be materially different from any future results, performance or achievements of the Company, expressed or implied by such forward-looking statements. These risks, as well as others, are disclosed within the Company's filing on SEDAR, which investors are encouraged to review prior to any transaction involving the securities of the Company. Forward-looking information contained herein is provided as of the date of this news release and the Company disclaims any obligation, other than as required by law, to update any forward-looking information for any reason. There can be no assurance that forward-looking information will prove to be accurate and the reader is cautioned not to place undue reliance on such forward-looking information. We seek safe harbor.