Manganese X Energy – Bringing Critical Materials to North America's Lithium-ion Battery Market
This profile is part of a investor education campaign. The profile provides detailed information which was sourced and approved by Manganese X Energy in order to help investors make better investment decisions. The Company's support of Investing News Network ensures we can continue to bring you unbiased, independent news and information.
Resource Investing News Featured Stock
Manganese X Energy – Bringing Critical Materials to North America's Lithium-ion Battery Market
Overview
Manganese X Energy Corp. (TSXV:MN) is a Canadian based company focused on acquiring and advancing North American resource projects with the potential to supply secure and ethically-sourced value added materials to the lithium-ion battery and renewable energy technology markets. Currently, there are no operating manganese producers in North American and the market is awaiting more reliable, sustainable sources of material outside of China.
The company's flagship project is the Battery Hill Property located in the top-tier global mining jurisdiction of New Brunswick, Canada, and under option from Globex Mining Enterprises. Battery Hill hosts carbonate manganese which is necessary for the production of electrolytic manganese dioxide (EMD), a high value product with a purity of 99.7 percent used in the cathode material of Lithium Nickel-Manganese-Cobalt (NMC) batteries.
NMC batteries are a type-of lithium-ion battery with considerably less cobalt, which is more expensive and more volatile, than the more traditionally-used lithium cobalt oxide battery; NMC-based lithium-ion batteries are increasingly replacing the lithium cobalt oxide batteries in electric vehicles, portable devices, and renewable energy storage systems as a more cost-effective and safer alternative with a longer life cycle. LG Chem, the world's largest supplier of electric vehicle batteries, supplies NMC batteries for plug-in hybrid vehicles including the Chevy Volt. Tesla (NASDAQ:TSLA) has said it will use NMC-based cathodes in the grid batteries its planning to produce at the Gigafactory.
In December 2016, Manganese X signed an agreement with Kingston Process Metallurgy (KPM) to conduct an EMD Concept Study to explore the company's options for enhancing manganese for the lithium-ion battery industry and maximizing the added value potential of the Battery Hill Property. Also in December, the company completed a 16-hole (3,589 meters) drill campaign on the project with results expected near the end of January 2017.
Manganese X recently assembled a Technical and Marketing Advisory Board to guide the company in becoming a leading supplier of ethically-sourced, value added manganese products to the North American lithium-ion battery market. The company is well-financed for an upcoming 2017 drill program with a goal of advancing the Battery Hill Project toward an NI 43-101 compliant resource estimate.
Investment Highlights
Upcoming 2017 drill program; advancing toward NI 43-101 resource estimate.
Both Canada and the U.S. import 100 percent of their manganese requirements; North American companies are keen to source manganese supplies outside of China.
Technology companies and consumers increasingly requiring ethically and sustainably sourced materials.
Only pure play EMD company listed in Canada. • Battery Hill hosts carbonate manganese which is necessary for the production of EMD.
Agreement with Kingston Process Metallurgy to study Battery Hill's potential to supply EMD to the lithium-ion battery industry.
Manganese values in the chip samples ranged from 0.72 percent to 25.97 percent manganese oxide and from 7.74 percent to 33.37 percent iron oxide.
Advancing toward NI 43-101 compliant resource estimate.
New Brunswick government support and grants through the New Brunswick Junior Mining Assistance Program (NBJMAP).
Key Project: Battery Hill Property, New Brunswick
The Battery Hill Property is located 5 kilometers northwest of the town of Woodstock in New Brunswick, one of Canada's top mining jurisdictions and among the top ten in the world, according to Fraser Institute's annual mining survey. in June 2016, Manganese X signed an option agreement with Globex to earn a 100-percent interest for the 1,228-hectare property. Existing infrastructure includes road access to the property, close proximity to major highways and railway, and available energy and water sources.
The property encompasses five manganese-iron zones including Iron Ore Hill, Moody Hill, Sharpe Farm, Maple Hill and Wakefield. These zones are the northern portion of the Smyrna Hills Formation, a banded iron formation consisting of an interlayered sequence of manganese minerals including rhodochrosite (a carbonate) that extends across the U.S. border into the state of Maine where similar iron-manganese deposits are found. Carbonate manganese is the source material for the production of EMD, a high value product used in the cathode material of NMC-based lithium-ion batteries.
The Woodstock area was once home to an iron-manganese mine in operation for nearly 40 years beginning in 1848 supplying high quality material for use in the amour plating of Britain's Royal Navy gun-boats.
2016 Technical Report
A 2016 NI 43-101 Technical Report was prepared by Perry MacKinnon Consulting to assess the property's manganese potential. The report includes the results of both historic and recent exploration work including field work and drilling conducted in 2011 supervised by geologist Perry MacKinnon. Drill hole GNB-11-3, which lies beyond the known mineralization, intercepted 57 meters of 10.38 percent manganese demonstrating the potential for additional manganese zones outside the known zones. Considering the historic data along with the 2011 magnetometer survey, surface grab sampling, channel sampling, and two diamond drill holes, the technical report concludes that significant potential for economically viable manganese deposits occurs on the property.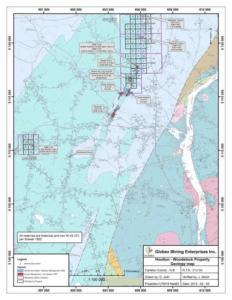 Working toward NI 43-101 compliant resource estimate
In the fall of 2016, the company completed gravity and magnetometer surveys across the Iron Ore Hill, Sharpe Farm and Moody Hill zones. The results of the surveys guided the team in determining targets for a winter drill program totaling 3,589 meters in 16 holes which was completed in December 2016. The results will be incorporated into a planned maiden resource estimate for the Battery Hill Property.
Manganese Market
Electric vehicle sales grew by 60 percent worldwide in 2015, which is the annual growth rate forecast by Tesla for sales through 2020. Solar panels are following a similar curve at around 50 percent growth each year. This surge in demand is expected to translate into increased demand for manganese.
Between January 1, 2016 and December 31, 2016, according to Metalbulletin.com, manganese appreciated in value more than 65 percent in 2016 to an average of $2,350 per tonne within the minor metals leaderboard category. Manganese ranked second in appreciation in a broad list to include the other components associated with the lithium ion battery.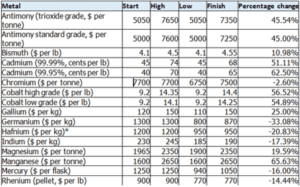 Source: Metal Bulletin 2016 Review Minor Metals Leaderboard
"It is management's opinion that the price trend of manganese as well as the value-added products derived from manganese such as electrolytic manganese dioxide may continue to be robust due to the increased demand especially from lithium-ion battery storage units specifically for electric vehicles," said Martin Kepman, CEO of Manganese X.
Management
Martin Kepman, Chief Executive Officer & Director
Martin Kepman has over three decades of consulting experience across a broad scope of projects in multiple industries ranging from software, soft goods, printing, food to mining. He is the owner and president of Martin Kepman and Associates Inc, a business development and management consulting firm founded in 1982.
Roger Dahn, Vice-President of Exploration & Director
Roger Dahn has over 30 years' experience in the mining and exploration industry. His experience includes over 16 years with Noranda Inc. and Hemlo Gold Mines Inc., as well as serving in the roles of Exploration Manager-Eastern Canada for Battle Mountain Gold Company and as Vice President-Exploration with Olympus Pacific Minerals Inc. and most recently Tri-Star Resources plc. He has been involved with a number of base metal and gold discoveries which advanced to development stage and production. His extensive mineral exploration experience covers both Canadian and International settings. Dahn is a registered professional geologist and Qualified Person as defined by National Instrument 43-101.
Jacques Arsenault, Chief Financial Officer
Jacques Arsenault is an experienced executive and consultant who for more than 20 years has specialized in the development, restructuring, acquisition, merger and sale of companies and assets in both the public and private arenas.
Mark Billings, Director
Mark Billings is the Chairman and Chief Executive Officer of Canamex Resources Corp. (TSX-V: CSQ). He recently served from 2007 to 2014 as a Director, Senior Vice-President of Corporate Development and Chief Financial Officer of Argex Titanium Inc. (TSX: RGX), a company he co-founded.
Steve Roebuck, Director
Steve Roebuck is a registered professional geoscientist with over 25 years of international mining and exploration experience. Roebuck is currently the President and CEO of Natan Resources Corp. Most recently he was the President of Scorpio Gold Corp., a 40,000-ounce-per-year gold producer with assets in Nevada.
Anthony Viele, Alternate Director
Anthony. Viele is currently the President and Director of Premier Strategic Alliance Inc., and has held these positions since the company was founded in 1996.
Shimmy Posen, Corporate Secretary
Shimmy Posen is a lawyer at Garfinkle Biderman LLP, where he focuses on corporate finance, M&A and securities law. He acts for public and private companies, securities dealers and financial institutions on a number of public and private financings and commercial transactions.
Jessica Dahn—Advisory Board Member
Jessica Dahn is presently employed with the Government of Newfoundland and Labrador, and has previously worked in the environmental sector in Halifax, Nova Scotia and Montreal, Quebec. Dahn has also worked for Suncor Energy with the Process Engineering division in the areas of Tailing Reduction and In-Situ technology. Her experience in the Oil and Gas Industry sparked a strong interest in sustainability and renewable energy. She is a graduate from the University of New Brunswick and holds a Bachelor of Engineering (B. Eng) in Chemical Engineering.
Jay A. (Jay) Richardson—Advisory Board Member
Jay Richardson is a Canadian Chartered Accountant, a Singapore Certified Public Accountant and a Fellow of the Insolvency Practitioners' Association of the United Kingdom. He has practiced as a Partner of Clarkson Gordon Arthur Young (now Ernst & Young, Canada and Singapore) and a Partner of KPMG (UK) prior to establishing his own practice as a company doctor in Toronto, Canada in 1993. Specializing in interim management in troubled situations, he has served as the CEO or Chairman of listed public companies on five occasions and in many other CFO and private company situations. He has extensive public company governance experience from over a dozen board memberships including recently having served as Interim Chairman of the Argus Corporation.
Peter W. Godbehere—Advisory Board Member
Peter Godbehere is a Metallurgical and Chemical Processing Expert with over 45 years of operational and technical leadership in the mineral and chemical processing industry. He was responsible for all the metallurgical aspects in the operations of a custom mill in Rouyn-Noranda; analysing and recommended major improvements to metal recovery and accounting control procedures in milling and smelting in the Sudbury area; and designing and engineering a grinding and flotation circuit for recovery of precious metals at a major Canadian refinery. Godbehere is presently consulting in the field for several large clients in North America. He has published numerous technical papers in the field and holds a patent. He is a graduate in Mineral Technology of the Royal School of Mines in London.
About Manganese X Energy
Manganese's X mission is to acquire and advance high potential manganese mining prospects located in North America with the intent of supplying value added materials to the lithium ion battery and other alternative energy industries. In addition our company is striving to achieve new methodologies emanating from environmentally and geographically ethical and friendly green/zero emissions technologies, while processing manganese at a lower competitive cost.
For more information, visit the website at www.manganesexenergycorp.com.
ON BEHALF OF THE BOARD OF DIRECTORS
Martin Kepman
CEO and Director
martin@kepman.com
1-514-802-1814
Cautionary Note Regarding Forward-Looking Statements:
Neither TSX Venture Exchange nor its Regulation Services Provider (as that term is defined in the policies of the TSX Venture Exchange) accepts responsibility for the adequacy or accuracy of this release.
This news release contains "forward-looking information" including statements with respect to the future exploration performance of the Company. This forward-looking information involves known and unknown risks, uncertainties and other factors which may cause the actual results, performance or achievements of the Company to be materially different from any future results, performance or achievements of the Company, expressed or implied by such forward-looking statements. These risks, as well as others, are disclosed within the Company's filing on SEDAR, which investors are encouraged to review prior to any transaction involving the securities of the Company. Forward-looking information contained herein is provided as of the date of this news release and the Company disclaims any obligation, other than as required by law, to update any forward-looking information for any reason. There can be no assurance that forward-looking information will prove to be accurate and the reader is cautioned not to place undue reliance on such forward-looking information. We seek safe harbor.